Louisiana Tech engineering students participate in national meeting
Six Louisiana Tech University sophomores represented the University's SUCCESS Scholars Program at the National Science Foundation American Association for the Advancement of Science Scholarships in Science, Technology, Engineering, and Mathematics Program Meeting in Washington D.C. on September 14-16.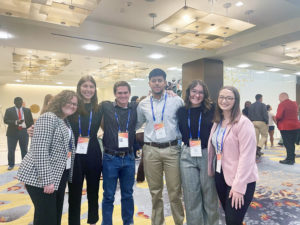 Caroline Cresap (Chemical Engineering of Zachary, Louisiana), Hanna Elliott (Biomedical Engineering of Beckville, Texas), Elijah Hill (Electrical Engineering of Bossier City, Louisiana), Ashtyne Monceaux (Civil Engineering of Crowley, Louisiana), Jonathan Rosas (Mechanical Engineering of Kilgore, Texas), and Mollie Terrill (Mechanical Engineering of New Orleans) spent two days networking with students and faculty from other universities, leaders in industry, and research experts.
The students participated in professional development workshops and learned about internships, summer research programs, preparing for graduate school, constructing resumes, and planning careers. Through these activities, they connected with other Scholars in similar STEM (science, technology, engineering, and mathematics) disciplines, research fields, and career pathways from around the country. At the end of the meeting, they attended a career fair that connected them with representatives across multiple industry sectors.
Dr. Krystal Cruse, principal investigator and lead for the Louisiana Tech project, Coordinator of the University's College of Engineering and Science First-Year Engineering Programs, and Director of the Office for Women in Science and Engineering says that she is proud of the students who traveled to the meeting.
"These students exemplify the finest qualities of Louisiana Tech University and served as outstanding ambassadors for both the SUCCESS Scholars Program and our institution," Cruse said. "The experiences and opportunities afforded to them during this meeting were truly priceless. They had the privilege to forge connections with fellow scholars from across the nation, engage with esteemed faculty members from diverse universities, and enrich their professional resumes. Their participation in this event has undoubtedly enriched their academic and personal journeys."
Monceaux says that being invited to attend this meeting is an example of the co-curricular education that she's getting as a Louisiana Tech SUCCESS Scholar.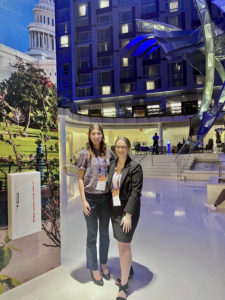 "The SUCCESS Scholars program has given me so many opportunities to learn more about the material I am learning, about what industry is really like. Being selected to attend this conference is a great honor and an example of what the program has done for me. At this meeting, I learned a lot about graduate education. This is not a topic that I am very familiar with, so it was nice to hear what opportunities are available if I plan to go the route of furthering my education after I finish my Bachelor's degree. Throughout the meeting, there were various speakers who talked about their life experiences and how those things brought them to where they are today. After hearing them all speak, I have learned that one's path may not necessarily be straightforward. There may be some curves and bumps along the way, and that main point really stuck with me. Because of all these opportunities, the SUCCESS Scholars has given me the confidence to know that I can do engineering."
"Tech and the SUCCESS program emphasize the importance of networking and utilizing resources – making connections in the industry is vital and it's important to recognize everything Tech provides and use it to achieve success," Cresap added. "I feel very grateful to be able to represent my school in the field I am passionate about to advance my educational career. I was able to talk to employers and universities about my options post-graduation. I had never realized how many options there were in both the industry and in graduate school, and the information I gained from the Career & Education Fair and the plenary sessions was invaluable in helping me specify my career goals."