LTRI opens its doors on the I-20 cyber corridor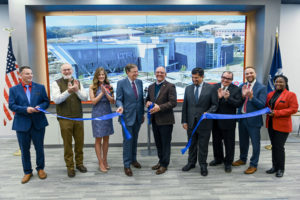 Louisiana Tech University held a ribbon-cutting ceremony for the new, state-of-the-art Louisiana Tech Research Institute (LTRI) at the National Cyber Research Park in Bossier City, La. on Oct. 30.
"The institute embodies the robust alliance focused on national security between Louisiana Tech University and its regional and national partners," Dr. Sumeet Dua, Executive Vice President of Research said. "The state-of-the-art facility is designed to bolster research endeavors, benefiting Louisiana Tech University, the U.S. government, and various corporate and industry stakeholders." 
LTRI is the result of a unique public-private partnership between the State of Louisiana, Bossier City, Bossier Parish, Louisiana Tech Applied Research Corporation, and Louisiana Tech University. After three years of construction and a global pandemic, this symbol of partnership and expansion of research opportunities officially opened its doors.
"The National Cyber Research Park is the crown jewel of Bossier City and we are committed to supporting partnerships that will expand its footprint. Today marks a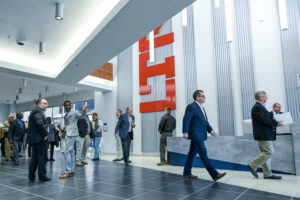 great day in Bossier City and gives us the promise of many great days ahead," said Amanda Nottingham, Bossier City's Chief Administrative Officer. "Lousiana Tech is a premier public research university. It has the unique capability to support the research and development needs of both industry and government. The recruitment, education, and training provided by Louisiana Tech are vital to fulfilling our goals in serving the security needs of our state and nation."
Governor John Bel Edwards shared his remarks on the importance of a cyber research center in Northwest Louisiana to create a talent pipeline that funnels straight into the cyber workforce. This talent comes from Louisiana Tech, Grambling State University, and Bossier Parish Community College and their cyber engineering and security programs.
"There are over 500,000 open jobs across our country in cyber," Edwards said. "What's happening across North Louisiana, and the I-20 cyber corridor, is gaining the attention of people across the nation. These investments, like LTRI, make a tremendous difference. We are investing in our young people's future and their future is our future."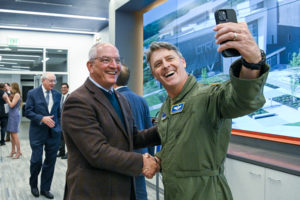 "The impacts that are occurring here are truly on a national scale," University President Dr. Les Guice said. "Governor Edwards has been highly supportive of our industry and government partnerships and workforce development programs. Through his strong support here in Bossier City and the I-20 corridor, we are seeing more and more companies and agencies that are leveraging our talent pipeline and the facilities to grow their business here."