CEHS graduate retells beloved Tech story in new book
The Legend of the Bulldog is well-known within the Louisiana Tech University family, but College of Education and Human Sciences graduate Karen Bean adds more to the story in her new book, "BLUE: Louisiana Tech University's Legend of the Bulldog".
"I decided to write 'BLUE' when I was retelling the Legend of the Bulldog to my own children," said Bean. "They loved the idea of a bulldog as the hero, but they wanted to know more about him. I realized there was a lot of room in the original legend to flesh out the bulldog's background story and add more details."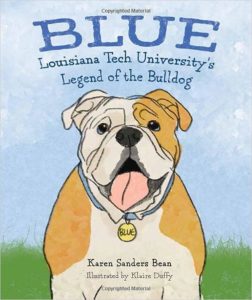 The original story is a heroic telling of how a bulldog sacrificed himself to save students in a fire, which ultimately became how the University got its mascot and school colors. Generations after generations of Tech families have told the story, but Bean wanted to tell more.
"I wanted to create more of a relationship between the bulldog and the students at Tech, prior to the night of the fire," said Bean. "I felt this would help young Tech fans really connect to our mascot and see how significant his act of bravery really was."
The story of "BLUE" is part of Louisiana Tech's history, and Bean's book allows those outside of the Tech community to learn what the University was built on.
"The legend of how our mascot came to be the bulldog is a remarkable story that every Tech fan should know," Bean added. "Ultimately, the story of "BLUE" is about friendship, loyalty, and bravery. These are themes that anyone can relate to whether or not they are a Tech fan."
Since its publishing, Bean has encountered many fans of the book and is honored by the love and support she has gotten.
"Through this book, I've had the opportunity to meet so many wonderful alumni and fans," said Bean. "From a young couple wanting to give a book to their future Tech Bulldog, to an Engineering professor from Bangladesh who attended Tech and now teaches there, I realize how amazingly diverse and loyal Tech fans are. The Tech family is ever growing and will ever loyal be."
The traditions at Tech make up the spirit and community that is received by so many. Bean's book is now a piece of those traditions that will teach future bulldogs how Tech's love and loyalty came to be.
To acquire a copy of "BLUE: Louisiana Tech University's Legend of the Bulldog," visit the link here.