Architecture faculty win Grand Prize in national film challenge
— Film highlights partnership with MedCamps, inspirational service to children in need —
Brad Deal and Robert Brooks, architecture faculty in Louisiana Tech University's School of Design, have won the Grand Prize and the People's Choice Award in the American Institute of Architects' (AIA) 2016 I Look Up Film Challenge for their inspirational short film titled, "Rebuilding MedCamps."
Deal's production was selected as the Grand Prize winner from a field of 47 participants from across the United States.  The film also took home the 2016 I Look Up Film Challenge People's Choice Award with over 43,000 votes from the public and industry professionals across the country.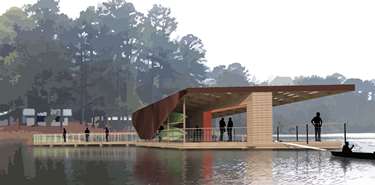 "Rebuilding MedCamps" is a three-and-a-half minute film showcases Deal's work with Brooks and the partnership between the Design Build Studios of Louisiana Tech and Medcamps of Louisiana, a non-profit organization that provides free summer camp experiences to children with chronic illnesses and disabilities.  It tells the story of how the faculty and students from Louisiana Tech's School of Design partnered with MedCamps to enrich the lives of campers through the design and construction projects at the MedCamps grounds.
"Our partnership with Medcamps has not only been mutually beneficial, it has exceeded everyone's expectations," said Deal.  "MedCamps mission is to provide transformative and empowering experiences for those they serve, and at its core, that is the same goal of great architecture. MedCamps' mission is highly motivational to our students, allowing them to serve a marginalized community and to see their design take shape in the real world for the first time and change the lives of children. It's a powerful formula."
The projects captured on film and that emerge from the Design Build Studio experience at Louisiana Tech create engaging and meaningful learning experiences for students.  Three projects have been completed thus far with one project, the Larkin Gibbs Memorial Pavilion, winning the AIA Louisiana Merit Award and the Members' Choice Award at the annual AIA Louisiana Design Awards Ceremony.  New plans are already being made for a new project set to begin next spring.
"It was our hope that the film would capture a few things," said Brooks.  We hoped it would capture our belief that design can be humble yet mighty, that education outside of the traditional design studio is not only worthwhile, but inwardly meaningful and outwardly powerful, and that design can represent that which we aspire to as compassionate and hopeful educators of the next generation of architects."
The 2016 I Look Up Film Challenge, which seeks to shine a light on the stories of architecture and design through the power of film, presented Deal and Brooks with the Grand Prize during the AIA Architecture and Design Film Festival held last week in New York City.  Deal and Brooks have been invited to screen the film at the SXSW Eco Conference in Austin, Texas later this month, and at the Architecture and Design Film Festival in Washington D.C. next spring.
"What the School of Design's collaboration with MedCamps offers and what this film communicates are how profoundly people's lives can be impacted through our empathy, our time and our talents," said Karl Puljak, director of the School of Design at Louisiana Tech.  "Through this single architecture course and this three minute film, people have experienced how powerful design can be when it serves us well. Perhaps no group is more transformed more by the experience than our own students and faculty."
Louisiana Tech's architecture programs seek to provide a comprehensive and uncompromising, balanced and demanding education in the art, craft and practice of ethical building through the polytechnic tradition of "hands-on" experiences and empirical learning that prepares students to be an architect in the fullest sense of the term.  The School of Design offers three undergraduate degree programs (Bachelor of Science in Architectural Studies, Bachelor of Interior Design and Bachelor of Fine Arts) and two graduate degree programs (Master of Architecture and Master of Fine Arts).
To view Deal and Brooks' award-winning film, please visit
https://vimeo.com/180375122
.