In a position of executive leadership in Dallas with one of the largest healthcare organizations in the country, Kendall Guillot of West Monroe feels Louisiana Tech was a "launching pad" for his young career, a place where relational and educational experiences helped him find his passion for leadership.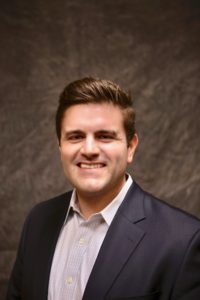 "When I came to Tech in the fall of 2009, I didn't even think of Health Informatics and Information Management (HIIM) as a degree option," he said. "I was sure of my passion for people and healthcare, but I thought my healthcare career would be clinical in nature.
"I'm a firm believer that the Lord allows his people to walk through various trials to teach lessons of courage, faith, and trust," he said. "In the middle of my own trials during my first 18 or so months at Tech, I realized I'd already learned many lessons of courage, faith and trust."
Those lessons led him to develop a true passion, both for healthcare leadership and for making a positive impact on anyone he came in contact with.
In 2012 he was introduced to Dr. Angela Kennedy, then a professor and chair of the HIIM program at Tech and now CEO of the Commission on HIIM Education. After meeting Kennedy and the HIIM faculty, "l knew the trajectory of my career would move only in a positive direction," Guillot said. "I wasn't surrounded by professors who just wanted to teach; I was surrounded by professors who would be my lifelong mentors. Still, I could never have imagined just those six years ago where I'd be today."
After earning his HIIM undergrad degree at Tech and his Master of Science in Health Administration from the University of Alabama at Birmingham, Guillot worked for a large consulting firm, advanced within the Baylor Scott & White physician services group, and then moved into his current role as one of three Directors of Market Operations for Hospital Corporations of America (HCA) Urgent Care group, CareNow.
"In this new job, I continually find myself applying the Tenets of Tech," Guillot said. "I'm working to lead and coach our staff to be confident and have pride in all they do, to strive for excellence, and to remain committed to the vision of the organization. I try to encourage our staff to execute their roles with integrity by caring and respecting all who they come in contact with."
Because he's thankful for all the University invested in him, he is paying that investment forward. Guillot gives back to Tech by serving as a member of the Alumni Association National Board of Directors, as President of the Alumni Association's Dallas Chapter, and as a member of the Louisiana Tech HIIM Advisory Board.
His wife, Hilary, also graduated from Tech with a degree in Early Childhood Education. Together they have a son Sawyer, who is 8 months old and a future Bulldog.
"I find it incredible that the more we try to give back to the University that gave us so much, the more in debt we become," he said. "I consider myself blessed to wear the Red and Blue; I'm pretty excited to spend the rest of my days remaining Ever Loyal to Louisiana Tech."