MAT Student Spotlight: Jonathan Goertz
A native of Clay, Jonathan Goertz has a passion for three things  – science, innovation, and teaching.
Goertz pursued his undergraduate degree in Biology with the intention of going to medical school. The best-laid plans don't always work out, though.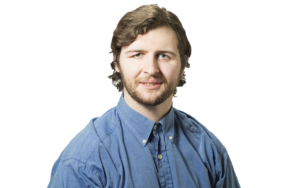 Goertz changed his mind and decided to use his passions in the classroom – sharing his excitement with them and helping them find their own joy in learning about science.
Both Goertz and his mentor teacher at Jonesboro-Hodge High School (JHHS), Richard Arnold, wanted to incorporate innovative STEM opportunities into their classroom at Jonesboro-Hodge High School. They partnered with UTeachTech Master Teachers Chris Campbell and Glenn Larson on bringing a robotics program to Jonesboro-Hodge. 
In order to implement a robotics program effectively, Goertz and Arnold knew that they would need equipment that would allow students to enhance their coding skills and participate in local robotics events, such as NICERC'sRegional Autonomous Robotics Circuit (RARC) events.  With encouragement from Campbell and Larson, Goertz and Arnold wrote a Louisiana Department of EducationQuality Math and Science grant. They succeeded with their proposal and received a 3-D imaging printer for JHHS.
"Jonathan put the knowledge he gained in his MAT Science Methods to good use, co-authoring a successful grant with Richard Arnold," Larson said. "The funds awarded through the grant allowed the school to purchase a 3D printer, taking another step forward in a growing STEM program."
The 3-D printer has served as a catalyst for innovative learning in the classroom. Students are now able to create whatever they need to construct robots and engage in other hands-on experience. Goertz encourages his students to pursue their dreams through the opportunities in STEM. 
Goertz currently teaches Chemistry, Physical Science, and Biology II at Jonesboro-Hodge High School. He finds joy in reaching young minds with the importance of STEM education and encouraging students to dream about their future careers. 
To find out more about the alternative certification program, visit us at latech.edu/MAT or contact Dr. Patsy Hughey at phughey@latech.edu.