Nicholas McHugh, '10, helps astronauts suit up at NASA
NASA astronaut Serena Auñón-Chancellor visits campus Sept. 24 to kick off Louisiana Tech University's 2019-20 New Frontiers in Biomedical Research Series at 6 p.m. in Howard Auditorium. To highlight her visit, we've talked to alumni who have worked in the space program. This is one story from that series.
Nicholas McHugh had a good excuse for taking extra time to respond to an email from his alma mater.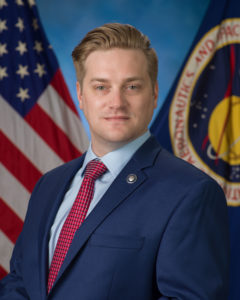 His NASA team in Houston was preparing for, then successfully executing, a spacewalk outside the International Space Station.
"Spacewalk was great!" said McHugh, whose team is gearing up for another set of up to five spacewalks through October to upgrade some aging batteries on the space station. 
A Louisiana Tech Class of 2010 biomedical engineering major from Whitehouse, Texas, McHugh today trains astronauts for NASA's human spaceflight programs. It's part of his role in what NASA calls its "Flight Operations Directorate" in Extra-Vehicular Activity, or EVA.
Just another day in the office preparing for space might have McHugh figuring out how to make an airlock better, continuing his certifications in NASA's longest training plan (since it involves human astronauts), even developing training and operational material for supporting spacewalks on the moon.
"I could be training the next astronaut on the moon; how exciting is that?" McHugh said. "I can think of nothing more exciting other than doing the moon walk myself."
Every day bring McHugh and NASA a bit closer to that possibility. The recent spacewalks are in support of the orbiting laboratory's assembly, maintenance, and upgrades to enable the space agency's ambitious goals for the Artemis lunar exploration program — the name for NASA's plan to establish a sustainable human presence on the Moon with the goal of sending humans to Mars.
Although McHugh works as both an instructor and flight controller, he specializes in training in the space suit, the astronaut's big, critical life support system. "I feel like my education in Biomedical Engineering prepared me in its systems more than any of the other engineering disciplines," he said.
McHugh has classrooms all over Johnson Space Center; on any given day he can go from teaching an introduction about how the airlock helps astronauts transition from spacewalking to vacuum, to teaching an astronaut how to resize the space suit when they get on orbit in another facility.
He's preparing currently to teach a two-day class to an astronaut. They'll cover everything about the day of a spacewalk except the spacewalk itself: getting in the suit, the medical requirements and procedures to prevent decompression sickness, malfunction response, and post-spacewalk operations for getting out of the suit and maintaining the suit.
"This particular lesson primarily takes place in a vacuum chamber where, on the second eight-hour day, the crewmember will get to go to vacuum for the first time ever while wearing a space suit," McHugh said. "Listening to the excitement in the astronaut's voice as the years of space suit training finally all come together is one of the most rewarding activities of my job."
He's also working with other engineers to design a new space suit, one to replace the suits that have been used since the 1970s.
"I also support the execution of related activities from Mission Control," he said. "This is one of my favorite aspects of the job. I get to then watch my students, the astronauts, actually use the classes I taught in real-time, while supporting them from the ground.
"One thing I really remember from Louisiana Tech, which I use frequently, is signal processing," McHugh said. "Since Tech placed an emphasis on signal processing, I am able to better understand and analyze the data coming from complex life support systems; it just happens that the complex life support system I support is a space suit. Additionally, my understanding of biomedical devices and their interaction with the human body helps me better support the astronauts while they prepare and perform a spacewalk."
Since McHugh was very young he knew he wanted to be a biomedical engineer. He originally focused on medical research, but working for an ambulance company as a dispatcher while a Tech student exposed him to communications and emergency situations and helped him realize that he "liked that kind of environment and didn't want to lose the skills I gained while working there," McHugh said. "Becoming a flight controller was an easy choice to make."
In Houston he works with at least two other Louisiana Tech grads, International Space Station Flight Director Paul Kohnya and flight controller Stephen Zenter (Industrial Engineering, '06).
For students who want to know more about becoming a NASA professional, NASA Pathways is a program that provides opportunities for students and recent graduates to be considered for employment. McHugh also said internships with companies that support NASA are critical.
"It would be awesome to have more Bulldogs working at NASA," McHugh said. "Being at Johnson Space Center, I'm in a sea of (Texas A&M) maroon and (University of Texas) burnt orange."
McHugh also offered good advice for Bulldogs interested in success at NASA – or any other part of life.
"Never accept 'good enough'," he said. "Do your best today, and tomorrow, make your best better."