Penny Humphries: finding a voice in fashion and advancement
While Penny Humphries, Director of Development at the College of Applied and Natural Sciences and Instructor in Fashion Merchandising, wears many hats at Louisiana Tech University, she takes a special joy in teaching students, and seeing those students find "their voice."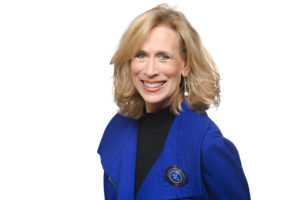 "Everyone has potential, but often the confidence to pursue that potential is lacking," Humphries said. Her students' work hangs all about her office, and the pride she has in their work radiates from her. "My first goal is to help my students become successful in the industry; my second goal is to guide them to that 'light bulb' moment."
Humphries' journey to Louisiana Tech began with a vocal scholarship, but she grew up with a love of fashion. 
After she graduated from Tech with a degree in Fashion Merchandising, Humphries was successful in the industry as a buyer for the Lewis & Co. children's, juniors', and off-price departments.
In her 30s, Humphries began thinking about the "big picture" of her life and decided to pursue a career in higher education. After 26 years at Louisiana Tech in a variety of departments, Humphries is able to impact her students and university everyday through teaching and advancement. 
"It still overwhelms me…the generosity of our graduates," Humphries said. "When we say Tech Family, it's not just a saying. I get to see the reality of that family every day."
When Humphries looks back on her life, she is humbled by all she has accomplished, but she is most proud of the opportunities she has had to better her community and Tech Family. 
"Whatever you do, think about the impact of it," she said. "Isn't it all about helping people?"
This story was written by Marketing student Sophie Edwards.