CCAF GEM Courses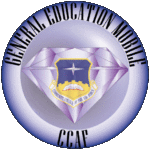 Louisiana Tech is proud to partner with Air University in supporting the Air Force General Education Mobile (GEM) program.  This is specifically designed for Air Force members interested in earning an Associate's Degree from the Community College of the Air Force (CCAF). Louisiana Tech is currently approved to offer the following online courses in the GEM curriculum:
Oral communication
COMM 101, Introduction to Communication Studies
COMM 207, Introduction to Public Speaking
Written communication
ENGL 101, Freshman Composition I
ENGL 102, Freshman Composition II
Mathematics
MATH 101, College Algebra
Social science
HIST 101, World History to 1500
HIST 102, World History Since 1500
HIST 202, History of the U.S. – 1877 to the Present
Humanities
MUGN 290, Music Appreciation
ENL 212, Introduction to American Literature
In addition, students may enroll in a wide variety of other courses which are conveniently scheduled in the evenings on Barksdale Air Force Base.  One major benefit of taking these courses with Louisiana Tech is students earn semester hours on Tech's quarter system, thus are able to complete degree requirements quicker as all courses occur during Tech's 12-week quarters.
Note: Barksdale section courses cost $214 per credit hour (Tuition and fees subject to change). For up-to-date costs, visit Tuition and Fees.
You can distinguish the online courses from the classroom courses in the Section Code column with all online courses having a code of 97 while the classroom courses have a code of 95. For enrollment or online academic support, contact the Barksdale Program reception office at 318.456.5005.
Helpful links
Contact us
Louisiana Tech Barksdale Office
318.456.5005
Education Center, Room 312
723 Douhet Drive, Building 4314
P.O. Box 128
BAFB, LA  71110