Important graduation information
Graduates must arrive at the Thomas Assembly Center – upper concourse to the right of the main entrance 45 minutes prior to the start of the ceremony. Upon arrival please locate your name for placement and don't leave your designated location.
Graduates are required to wear a solid color mask, the mask that was purchased with their cap and gown, or a Louisiana Tech branded mask to be able to participate in the ceremony.
All guests must have a ticket to be admitted to the Thomas Assembly Center. Graduates are not required to have a ticket.
Those family and friends who are unable to attend commencement can watch the event via Facebook Live.
All guests must wear a mask or face cover at all times while inside the Thomas Assembly Center.
All guests are asked to maintain at least six feet of physical distance from those who are not with their party when selecting a seat. Guests should be seated immediately upon entering the Thomas Assembly Center. Please don't sit on rows that are roped off.
Please ask your family and guests to meet you outside of the Thomas Assembly Center at the conclusion of the ceremony. You will not be able to re-enter.
Graduates are reminded that they are not allowed to decorate their cap/mortar board.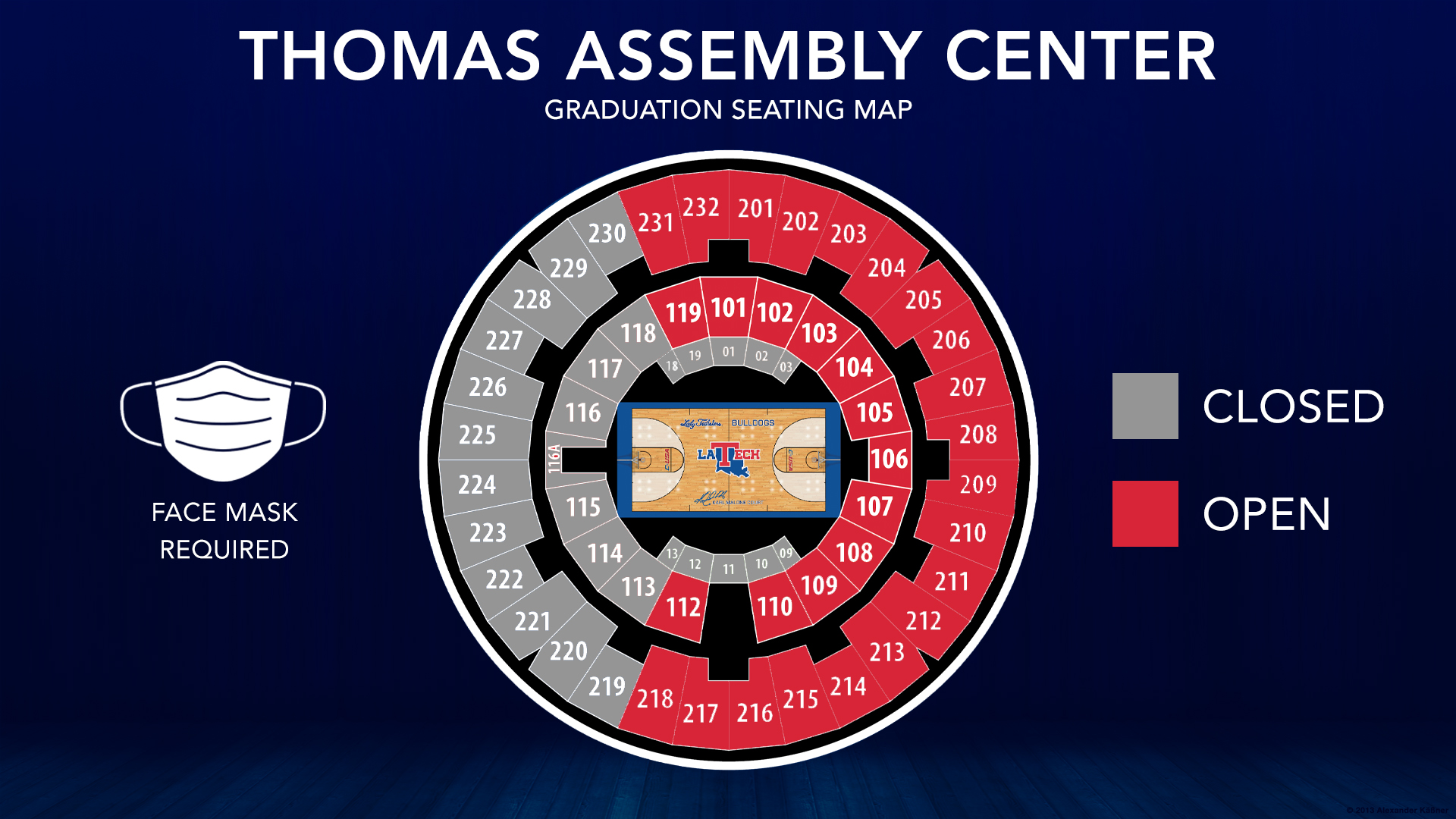 Commencement
Two Winter 2020-2020 Commencement Ceremonies will be held on March 6-9:00 a.m. (College of Business and College of Liberal Arts) and at Noon (College of Applied and Natural Sciences, College of Education, and the College of Engineering and Science). Both events will be held in the Thomas Assembly Center.
Degree candidates should be preparing for commencement by applying for graduation, ordering a cap and gown, and submitting their final Plans of Study if required. Students will be able to bring six guests to their ceremony. Graduates and guests must wear masks through the ceremony.
Order cap and gown
Caps and gowns can be ordered online. Deadline is Feb. 12.
Ordering honor society cords
Honor society cords, stoles, or shawls are ordered through the local chapter of that honor society. The local chapter verifies individual eligibility each quarter.
Students eligible for Latin honors at commencement (cum laude, magna cum laude, and summa cum laude) do not receive or wear a special cord or stole/shawl. Instead, the appropriate Latin honor is announced when they cross the stage, is listed in the Commencement Program, embossed on their diplomas, and permanently loaded into their official transcript data.