Moving Forward
Louisiana Tech, CSC partner to produce high-tech opportunities across region
Louisiana Tech University has entered into a partnership with global IT leader Computer Sciences Corporation (CSC), Louisiana Economic Development (LED) FastStart, and the Cyber Innovation Center in Bossier City to offer current and prospective students a comprehensive suite of cyber-related programs and career opportunities designed to meet the current and future needs of CSC.
Governor Bobby Jindal made the announcement Tuesday at the Cyber Innovation Center (CIC) where CSC will establish a 116,000 square-foot technology center that is expected to have an 800 direct jobs impact statewide, within the next four years. Louisiana Tech President Les Guice and Vice President for Research and Development Stan Napper were also in attendance along with representatives from CSC, CIC, LED and business and community leaders throughout north Louisiana.
"Today is a culmination of efforts, but it's also a beginning or what we in higher education call a 'commencement,'" said Guice during his address to the attendees. "This partnership is going to have an enormous impact across this region and across this state. It's an excellent opportunity for Louisiana Tech students and graduates to work with a premier technology company with leading-edge tools and resources to help solve some of the world's most complex problems.
"This partnership is also a great opportunity for our citizens to grow and prosper right here in north Louisiana without seeing our children leave for other states to work and realize their career aspirations."
Using its academic and certificate program strengths in areas such as computer science, computer information systems and cyber engineering, Louisiana Tech will produce graduates with skills that closely align with the needs of CSC while offering graduates unprecedented career opportunities in north Louisiana. The partnership also seeks to expand the state's knowledge economy by keeping more of its top graduates, from high-tech and high-demand fields, working within Louisiana.
"The center that we are opening here in Bossier City is going to be central to our workforce and technology initiatives and strategies," said Dave Zolet, executive vice president and general manager for CSC. "Louisiana Tech and the other colleges and universities in the area will play a vital role in tailoring programs and curricula to develop and advance the next generation's IT workforce."
Headquartered in Falls Church, Va. and with major offices in Australia, Asia and Europe, CSC has over 80,000 employees serving clients in more than 70 countries. CSC is a global leader in next-generation IT services and solutions with a mission to enable superior returns on clients' technology investments through best-in-class industry solutions, domain expertise and global scale.
"In supporting CSC's future workforce needs, Louisiana Tech's computer science program will likely rank among the nation's Top 20 for the number of bachelor's degrees in computer science awarded annually by an engineering school, with a No. 1 national ranking anticipated for the cyber engineering program," said Jindal. "Together, Louisiana Tech, the Cyber Innovation Center and CSC will develop tomorrow's information technology ecosystem in northwest Louisiana."
CSC's new center will become an anchor tenant of the 3,000-acre National Cyber Research Park in Bossier City which is being developed by the CIC. CSC selected Bossier City following a competitive site-selection process during which the company considered 134 locations around the country. In addition to providing 40,000 square-feet of temporary operating space for CSC, the Cyber Innovation Center will support the development of the new technology center and manage the facility after its construction at the National Cyber Research Park.
"In one day, we have established a new sector in north Louisiana with the ability to keep our kids here, providing them with new opportunities, and not seeing them depart for other states to begin and build their careers," said Craig Spohn, president of the CIC. "Today's announcement is truly transformative for our region and the support of our Governor and our legislators has been invaluable to our work here at CIC and the opportunities that will result from this partnership."
Louisiana Tech and the CIC have enjoyed a strong, collaborative relationship over the past several years. The two organizations have shared in the development and advancement of programs and partnerships such as the Cyber Discovery Camps, the Cyber Engineering Research Conferences, and Science, Technology, Engineering and Mathematics (STEM) initiatives built to create the next generation of scientific thinkers and innovators in north Louisiana.
The CIC serves as catalyst for the development and expansion of a knowledge-based workforce throughout the region. CIC also seeks to diversify the region's economic base by promoting research, education, and technological innovation and fostering collaborative and strategic alliances between governmental agencies, private industry, and academic institutions.
The State of Louisiana will provide $14 million in funding over 10 years to expand higher-education programs designed primarily to increase the number of annual graduates in computer science and cyber-related fields. Louisiana Tech will receive at least 65 percent of these program expansion funds, which will help it work toward quadrupling its total undergraduate degrees awarded annually in computer science, computer information systems and cyber engineering over the next five to six years.
For more information on Louisiana Tech's computer science, computer information systems, and cyber engineering programs as well as the partnership with CSC and the opportunities that await prospective students and graduates, please visit http://ace.latech.edu and complete an online Expression of Interest form.  Interested parties can also contact program coordinators via email at ace@latech.edu.
Guice 'honored, grateful' to lead Louisiana Tech into the future
Nearly 1,000 friends, colleagues and members of the campus and local communities gathered in Louisiana Tech University's Howard Auditorium Tuesday, to celebrate the investiture of Dr. Leslie K. Guice as Louisiana Tech's 14th president.
University of Louisiana System President Dr. Sandra Woodley officially conferred upon Guice the office and authority of the presidency and was joined by University of Louisiana System Board of Supervisors Chair E. Gerald Hebert to present Guice with his presidential medallion. Members of Guice's family including wife Kathy, mother Marguerite, brother Gary and family, and sons Kyle, Chad, and Bret and their families were on hand to witness this historic event.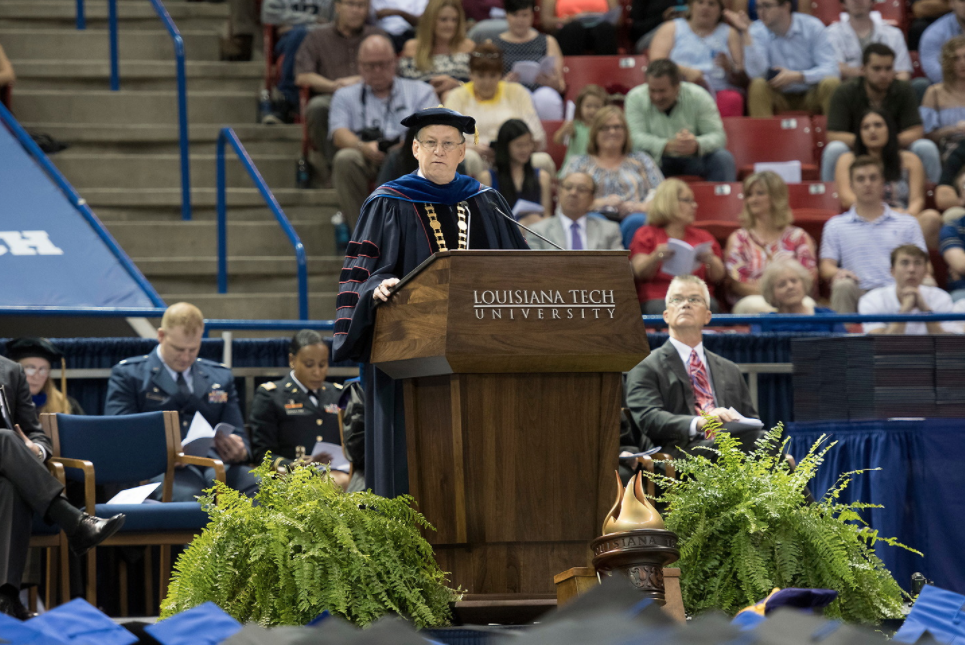 "I remember sitting in this auditorium as a young faculty member on February 20, 1987, when the Board of Trustees recommended and appointed Dr. Daniel D. Reneau as the 13th president of Louisiana Tech University," said Guice. "Never could I have imagined that I would have the opportunity to serve as a faculty member, an administrator, and ultimately the president of this great institution. I am most honored and privileged to lead Louisiana Tech into the future as its 14th president."
This was the first presidential investiture conducted at Louisiana Tech since 1962 when Dr. F. Jay Taylor assumed the presidency of what was then Louisiana Polytechnic Institute. Dr. Daniel D. Reneau succeeded Taylor as president in 1987, but did not have an investiture ceremony. Guice is just the third president in the past 52 years to lead Louisiana Tech.
Shortly before the investiture ceremony, Guice and family participated in the planting of his presidential tree along the alumni walkway leading to Centennial Plaza. The red maple joined those of the other 13 Louisiana Tech presidents, representing strength and stability in leadership at the university throughout its 120 history.
"The stability of and confidence in presidential leadership as well as the tremendous commitment, integrity, and enthusiasm demonstrated by my predecessors has enabled Louisiana Tech to distinguish itself as a national university most effectively serving the citizens of the State of Louisiana," Guice said.
Guice assumed the presidency of Louisiana Tech on July 1, 2013, succeeding Reneau, who had led the university for 26 years and retired as the longest tenured president in the history of the institution. Following a national search and a series of public forums and interviews, the University of Louisiana Board of Supervisors unanimously appointed Guice as Louisiana Tech's 14th president in a special session in Baton Rouge on December 4, 2012.
"I have always said that what we do at Louisiana Tech, we do with purpose, pride, passion, and honor," said Reneau. "I have known Les Guice for over 30 years as a faculty member and an administrator, and can tell you that he possesses all of these important qualities. He is absolutely the right man, in the right place, at the right time to lead Louisiana Tech."
In his address, Guice credited Reneau with transforming the campus, from its facilities, to its academic programs, to its athletics programs, to its research programs, bringing Louisiana Tech distinguished state and national recognition, and ultimately leading to its designation as a national research university by the Carnegie Foundation and a top tier ranking among national universities from U.S. News and World Report.
"Since the day I took office as system president, I have not encountered a single person that has not used superlatives to describe Les Guice such as strength, integrity, thoughtfulness, leadership, and I could go on and on," said Woodley. "From my first time visiting the campus, I knew that Louisiana Tech was a remarkable place and with Dr. Guice's leadership, Louisiana Tech is sure to continue to reach new heights."
Despite his sincere appreciation for his supporters and the accolades he received during the investiture ceremony, it didn't take Guice long to look toward the future and share his vision for elevating Louisiana Tech to a position of even greater national prominence.
"Our world has become a global marketplace, where information, goods, and services are only a mouse-click away," said Guice. "As economic competitiveness increases globally, I believe that it is most important for Louisiana Tech, as an institution, to provide even stronger educational opportunities for our citizens. We must continue in our pursuits to encourage the growth of knowledge jobs in our state, and we must be responsive to the needs of employers who have ever increasing demands for well-educated and highly-skilled professional."
"Louisiana Tech's success has always been measured by the success of its students and we have a long record of producing graduates who become exceptional leaders in their professions. Our students will continue to be our first priority and we will always strive to provide them with an education that is second to none."
Guice said that Louisiana Tech's future success will be achieved largely through its comprehensive strategic plan with a focus placed on student recruitment and retention, innovative curriculum design and interdisciplinary student experiences, the elevation of research program to national prominence and maximizing the economic impact of Louisiana Tech's innovation enterprise. He also emphasized the importance of private support and strengthening public-private partnerships in Louisiana Tech's long-term growth strategies.
"I know where this university has been, where it is now, and where it's heading," stated Guice.  "I'm fully committed to dedicating the full extent of my energy, experience, and abilities to leading this institution to the highest levels and that which the Tech Family and the State of Louisiana expects and deserves."