Education
Student Coursework and Research Participation
Louisiana Tech and the Trenchless Technology Center offer excellent educational and research opportunities for students to prepare for an exciting career in trenchless technology. Both undergraduate and graduate students can take the trenchless technology course and engage in ongoing TTC research projects to get practical experience to go along with the theoretical background. Students typically participate in two regional trenchless technology conferences each year: the UCT Conference held in January usually in Houston, Texas, and the NASTT No-Dig Conference held in March or April at varying locations in the U.S. The participation is organized in coordination with the AGC/NASTT Louisiana Tech Student Chapter. The Center continuously promotes student participation in the field of trenchless technology by providing lab demonstrations and more in-depth field days.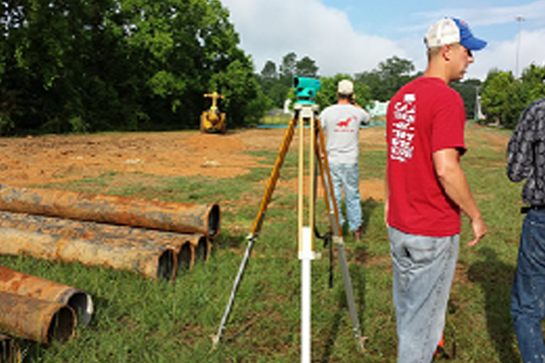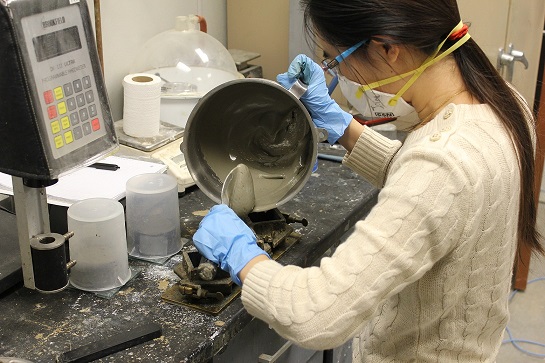 TTC Specialty Schools
TTC Auger Boring School
The TTC Auger Boring School (ABS) is a one-week course about auger boring method of pipeline installation, a well-established and perhaps most common trenchless application. This intensive course provides students the knowledge and tools for planning and performing successful auger boring projects. It covers all aspects of auger boring projects from design to construction, including safety. TTC ABS is the first of short specialty schools developed by the Trenchless Technology Center (TTC). The school was held for the first time in October 2015 when a total of 22 students attended. See the article in the Underground Construction Magazine December 2015 issue Inaugural TTC Auger Boring School Impresses Attendees. National Utility Contractors Association (NUCA) supports the ABS school: "NUCA fully endorses TTC's Auger Boring School. We have reviewed the curriculum, and I am impressed with the program tailored specifically for contractors. This is the only school where contractors can fully train their foremen and operators in auger boring operations." –Jeff Rumer, NUCA Chairman of the Board and President of UIT, Denver, Colorado. See NUCA ABS 2017 FLIER The next ABS is scheduled in February 2017 and will have two tracks, Engineers' and Contractors' Track. See the daily schedule of classes here and the description of classes here. Time: Feb 13-17, 2017
TTC Utility Investigations School
This is a one-week, graduate-level course of instruction on Utility Investigations. This intensive course will provide students the knowledge and tools for competent utility investigations in accordance with accepted national standards. Designed for the licensed professional, the experienced practitioner or the one just starting out in the field, this school is truly a first of its kind. This course is the first in a series of planned graduate level courses in the field of Utility Engineering. Time: Aug 15-19, 2016, Louisiana Tech Campus, Ruston, LA HW1  HW2  HW3  HW4
Certification of Training in Asset Management (CTAM)
The CTAM program has been developed to increase awareness and train utility personnel on the best way to implement and use asset management to extend the life and efficiency of their water and wastewater systems. The program was developed by Buried Asset Management Institute-International (BAMI-I) in conjunction with TTC and IUPUI (Indiana University Purdue University Indianapolis), in partnership with UIM: Water Utility Infrastructure Management, and is hosted by the TTC. The CTAM is an exclusive four-part series in Asset Management coursework and certification for water utility professionals. The participants can obtain certification of training in the management of underground asset infrastructure. The CTAM program is offered online and in a classroom format. For more information go to bami-i.com.