Who We Are
Since its inception over a decade ago, the Institute for Micromanufacturing (IfM) has been in the forefront of integrated multidisciplinary research and education. Starting from its original micromanufacturing emphasis, the Institute's research and educational efforts have grown and expanded significantly to its current five thrust areas of emphasis, identified as Nanotechnology, Biotechnology, Biomedical Nanotechnology, Environmental Technology, and Information Technology. The activities carried out through these thrust areas, coupled with the Institute's integrated nanomanufacturing and micromanufacturing resources, have led to the realization of a broad range of research, educational and commercialization efforts.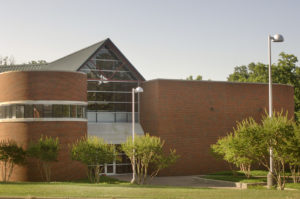 The Institute, through its leading-edge resources and modern facilities, has been providing a broad range of technical training, processing, and measurement services to external users, including industrial, governmental, and commercial customers.  The Institute consists of an interdisciplinary team of faculty and staff, and 65,000 sq. ft. of user facilities, headquartered in a modern 41,000 sq. ft. building, designed specifically for research and development of micro/nano scale technologies and systems. The R & D complex includes laboratory facilities with a full suite of micro- and nanomanufacturing capabilities, and a comprehensive set of measurement and characterization tools, as well as modeling and simulation software.
Welcome Message from Director Crews
As you explore this website, I hope that you will enjoy learning more about the Institute for Micromanufacturing (IfM). For example, our facility provides more than 40,000 sq. ft. of research labs, offices, and cleanroom space, equipped with state-of-the-art micro- and nanofabrication equipment and characterization tools. Moreover, as a high-tech research center on the campus of Louisiana Tech University, we have a broad identity.
We work to provide solutions to the most critical 21st century challenges, such as energy dependence, health care costs, and environmental sustainability. In this effort, our internationally-recognized team of scientists and engineers are leveraging our regional assets, such as natural gas reserves and coastal wetlands, to make cutting-edge advancements in the fields of micro- and nanotechnology.
Easily accessible in the crossroads of the south central United States, we serve as an R&D outsource to companies striving to accelerate the commercial development of their technologies. We also partner with companies seeking to commercialize the inventions and discoveries of our own researchers.
We support the education of the new and future national workforce of scientists and engineers. We engage our undergraduate and graduate student body in micro- and nanotechnology research; we provide high-tech, hands-on training for industry professionals; and we are involved in outreach throughout the region to encourage school-age youth to get a college education in the areas of science, technology, engineering, and mathematics (STEM).
As you learn more about what we do, I invite you to consider ways in which we can help each other. You are welcome to contact me or any of the specialists within our Institute for further discussion of what you have in mind.
Thank you,

Niel Crews, Ph.D., P.E.
Director
Institute News
Contact Us
Directions to IfM – Ruston, Louisiana
From Shreveport to Ruston:  Take I-20 East for approximately 75 miles (1.5 hours driving time). From I-20 take Exit 84. Turn South onto Tech Drive. Go 1 mile, the Institute for Micromanufacturing is on your left at 911 Hergot Avenue.
From Monroe to Ruston:  Take I-20 West for approximately 40 miles (1 hour driving time). From I-20 take Exit 84. Turn South onto Tech Drive. Go 1 mile, the Institute for Micromanufacturing is on your left at 911 Hergot Avenue.
From Alexandria to Ruston: Take U.S. Hwy 167 North to Ruston. Turn left onto California Ave. Go 1 mile and turn right onto Tech Drive. The Institute for Micromanufacturing is two blocks on the right at 911 Hergot Ave.
Directions From Shreveport or Monroe Airports
For those coming from an airport the Institute for Micromanufacturing is reached from either the Shreveport or Monroe airports via Interstate 20 (I-20).  Take Exit 84 (Tech Drive), turn south onto Tech Drive.  You will go through 3 red lights (1 at the ball fields, 1 just past and under the railroad, and 1 at Barnett Springs Road and the Art Building).  Go through the 3rd light and past Hergot Avenue intersection to enter into the parking lot of the Institute for Micromanufacturing on the left. If you reach the next red light at the intersection of Tech Drive and California/Hwy 80, turn around and come back two blocks.  IfM is brick with an A-framed, green metal roof.  It is located directly across from the Episcopal Church.
If you have any questions, or are unclear of any directions please feel free to give us a call (318)257-5100