InterLibrary Loan is an information resource delivery service provided by Prescott Memorial Library to enrolled students and employees of Louisiana Tech University. This service obtains from other libraries requested research resources, such as books on loan and photocopied or digitally scanned journal articles, when the Library does not own a copy or the rights to electronic access. To fill your requests, this service uses OCLC, a national online network of over 20,000 libraries and a database of over 37 million records. There is no faster or larger network available in the United States.
Before making a request, confirm that the Library does not already own a copy of the desired item, or provide online access to it. Search the Library's catalog for books or LinkSource for journals.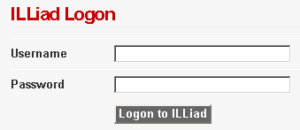 Login
If you have already registered and are familiar with the terms and conditions of use, click the logon icon above to proceed to the ILLiad Logon page.
Registration
Eligible users must register, at no charge, to create their own password-protected accounts. To register, read the directions for Interlibrary Loan Online Registration, scroll to the bottom and click on the First Time Users Click Here button. Complete and submit the registration form. If you fail to register correctly, you will not be able to get the materials you need. By accessing this service, you acknowledge that you agree to be bound by the terms and conditions set forth below in the Frequently Asked Questions.
Science Direct
Faculty members, other staff, and graduate students are also eligible to initiate requests for electronic delivery of journal articles available from ScienceDirect. For policies and procedures, registration and access to accounts, see below.
Policies and Procedures for Registration and Access

Louisiana Tech University has an agreement with the ScienceDirect database which allows for purchases of individual articles at a cost of $22.00 per article. A deposit account has been set up with limited funds available. To insure fair distribution of the available funds, please note the following limitations:
Faculty members are limited to five (5) requests per month.
Graduate students are limited to three (3) requests per month.
Undergraduate students are limited to two (2) requests per month.
Registration for Science Direct must be done on-campus to be eligible for "library-subsidized" document delivery.
Requests for articles from ScienceDirect will be forwarded to the InterLibrary Loan Services for final processing.
Online articles requested through ScienceDirect will be sent electronically to the patron within 24 hours.
Louisiana Tech University students and staff have restricted access to search ScienceDirect.
Contact
If you have additional questions, contact the InterLibrary Services Department during regular working hours by phone (318.257.3555) or by email ill@latech.edu or reginaf@latech.edu.
Frequently Asked Questions
Who may use the service?
Interlibrary borrowing privileges are available to all current Louisiana Tech faculty, staff, graduates, and undergraduates (with limitations) who possess a Library circulation account in good standing.
What can and cannot be borrowed?
It is important that you realize the lending library determines whether or not to loan an item. Most libraries do not lend rare books, journals, reference books, microfiche, books in poor condition, titles published during the last year, or popular books in demand by their own patrons. We do not request textbooks or any other book required by a University class.
Master Theses and Doctoral Dissertations are loaned only at the discretion of the lending library, but be sure to check the Proquest Digital Dissertations database before requesting a title. Many titles are readily available to you in full text online.
How do I request materials?
To request materials, you must use the ILLiad form on the Library's website.
What information is needed to make a request?
You must supply ALL the basic bibliographic information about the book or journal article you are requesting supplied by your citation. You must give the full title of the journal, not an abbreviation. Incomplete forms will be returned to the patron. This is essential for more efficient service.  First time users will need to register with ILLiad. The form will take you step by step through the process.
How much does it cost?
How Much Does It Cost?
Books – Normally, books are free. However, some prestigious or medical libraries will charge for the privilege of borrowing from their collection due to the large number of requests they receive. This may cost between $10.00 and $25.00. Before this fee is passed on to you, you are notified to get your approval. Whenever payment is required, the payment should be given in the form of a check and is due upon receiptof material. No exceptions.
Photocopies – They are free if the request is filled by another Louisiana state university or an out-of-state library with whom we have a reciprocal agreement. The charges from any other library vary from $10.00 to $25.00. We request from the least expensive libraries first, but you will be notified if there is a fee. Whenever payment is required, the payment should be given in the form of a check and is due upon receipt of material. No exceptions.
Fees – There is a place on the request form to state the maximum cost you are willing to pay. It is your responsibility to fill out this amount. $20.00 is generally the maximum cost and is usually attached to an extremely long article. The length of the article requested is limited to 50 pages because of system rules. Additionally, the cost amount should be typed in the notes field of the ILLiad form.
Department Charge Code – The request form has a space for your Department Charge Code, so the cost can be charged to your department. Due to some recent policy updates in InterLibrary Services, written permission must be obtained by the student and verified before charges will be sent to the department. If there is no charge code listed and payment is required, a check is due upon receipt of material; no exceptions.
How many books and articles can I order (through Interlibrary Loan)?
Current faculty, staff, graduate students, and seniors do not have a request limit. However, undergraduateshave the following request limitations per quarter:
Juniors can request a total of 20 items (articles and/or books, but no more than 10 books).
Sophomores can request a total of 10 items (books and/or articles).
Freshmen can request a total of 3 items (books and/or articles) with the approval of a Reference Librarian.
How long does it take?
With new services such as ARIEL, and the state-wide courier service, we may be able to obtain the material within 24 to 48 hours. Highly technical or medical subjects in some journals could take longer to arrive. The time also varies according to the speed of mail and the speed with which the lending library fulfills the request. There is no such thing as a guaranteed rush request, so please plan ahead and always specify a date after which you will no longer need the material.
How will I be contacted when my request arrives?
Simply place your email address in the space provided, and you will be notified via email.
What is the procedure for picking up/checking out materials?
You must bring your valid Tech I.D. when picking up Interlibrary Loan materials. ILS is staffed from 7:30 a.m. — 4:00 p.m. Monday through Friday; material may be picked up at his time. Material may also be picked up after hours or on weekends by simply asking the graduate assistant at the circulation desk. A checkout card slip will be inserted into each book. There will be a $5.00 service fee if these materials do not return with the book. There is a new Checkout Authorization Form available for Tech Faculty who wish to have a student assistant checkout Interlibrary Loan books and/or pick up articles. If you have additional questions or need to speak with an ILS staff member, contact us at 318.257.3555 or send an email to Regina Foster at reginaf@latech.edu or Laura Ogden at laura@latech.edu.
How long may I keep materials?
The lending period for books is for three weeks with no renewals and no re-ordering within three months. Any other lending restrictions are set by the lending library, not Prescott Memorial Library, and we are obligated to honor their directions. Photocopies of journal articles are sent instead of the the actual journal, so the photocopies are yours to keep.
Copyright Rights & Responsibilities
The copyright law of the United States (Title 17, United States Code) governs the making of photocopies or other reproductions of copyrighted materials. Under certain conditions specified in the law, libraries and archives are authorized to furnish a photocopy or other reproduction. One of these specified conditions is that the photocopy or reproduction is not to be "used for any purpose other than private study, scholarship, or research". If a user makes a request for, or later uses, a photocopy or reproduction for purposes in excess of "fair use", that user may be liable for copyright infringement. This institution reserves the right to refuse to accept a copying order if, in its judgment, fulfillment of the order would involve violation of copyright law. For more information consult The Campus Guide to Copyright Compliance.
What is the procedure for returning materials?
Materials must be returned to InterLibrary Loan Services when due. Simply give the item to a staff member at the Circulation Desk and indicate that the material is an InterLibrary Loan item.
Are there late fees?
Late returns impact the entire university community. Prompt returns are therefore imperative. Failure to return the book by the due date can cause Prescott Memorial Library to be denied borrowing privileges from the lending library. Each late return incurs a late fee of $1.00 per day. The fine will increase on the third day to $5.00 per day and continue to rise until the book is returned. All faculty, staff, and students shall be held responsible for payment of fines incurred. No exceptions.
If I have other questions, whom do I contact?
If you have additional questions or need to speak with an ILS staff member, contact us at 318.257.3555 or send an email to Regina Foster at reginaf@latech.edu.