Welcome to Adams Hall
Adams Hall was designed for three residents per room.  During the 2021-2022 academic year, maximum occupancy per room will be two residents. Adams and Aswell halls are interconnected and share a laundry room.  Adams Hall will be occupied by males for this academic year.  The rooms in Adams have twin-sized beds.  Residents of Adams share a community bathroom as well as a kitchen and study on each floor. Adams is located directly across from Carson Taylor hall and has a large porch that wraps around the front of the building.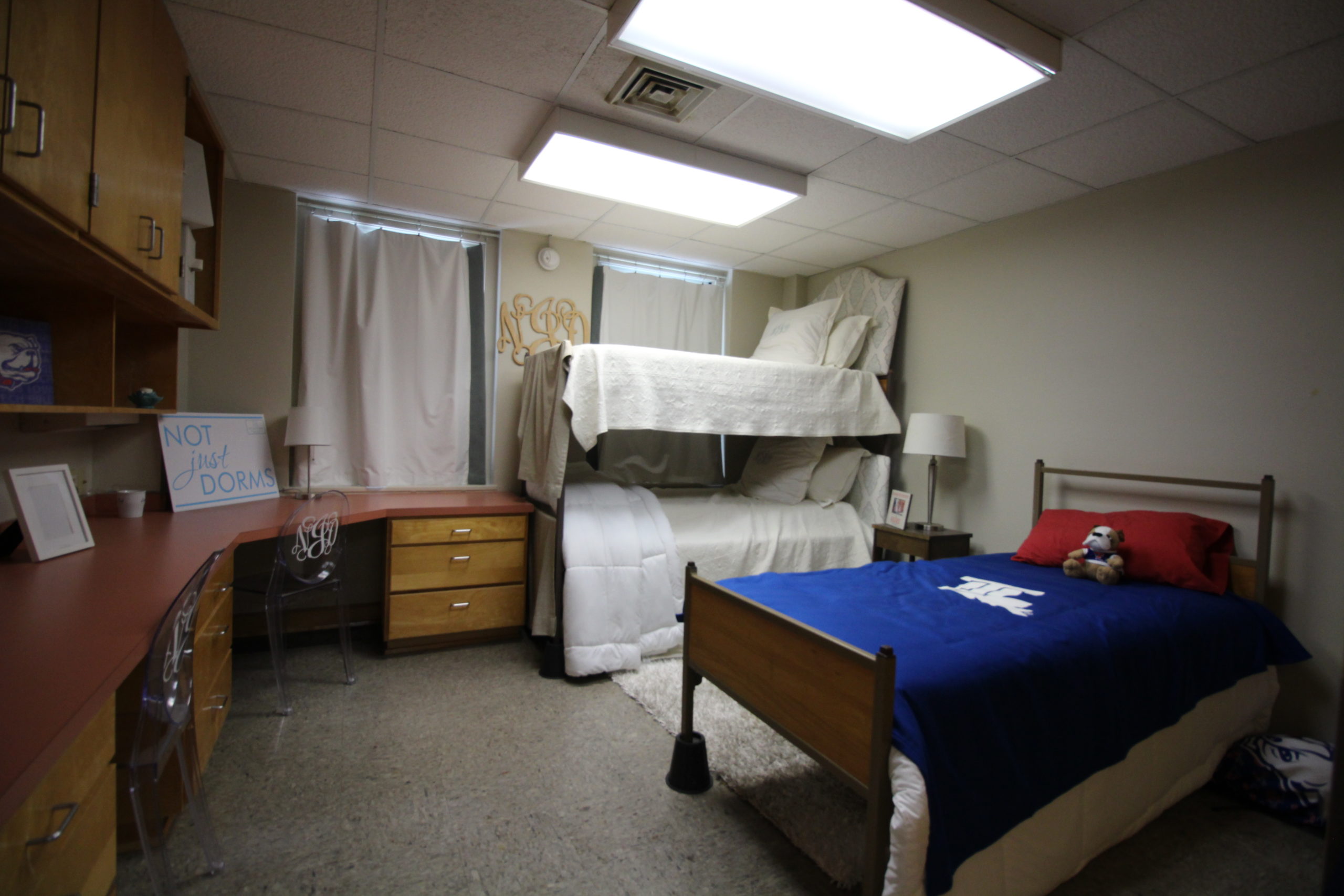 Amenities
Ethernet connection for internet
Cable TV hook up
On-site laundry (75 cents/wash or dry)
Central AC/Heat
Lobby
Community kitchen
Community Lounge
Community bathroom
Built-in desk and drawers
75″ in length mattresses (twin)
Rates
| Space Type | Room Fee (per quarter/per resident) |
| --- | --- |
| Regular Room 9-month lease | $1,000 |
1st floor Resident Assistant
3rd Floor Resident Assistant
2nd Floor Resident Assistant
Room Dimensions
Room Dimensions: 14′ x 12′
Window Dimensions: 3.5′ x 5′
Ceiling Height: 8 feet
Closet Dimensions: 31.5″ W x 25.5″ D x 7′ 9.5″ H
Chest of Drawers: 23″ W x 7″ D x 19.5″ H
Desk: 54″ W x 24″ L
Under Bed Dimensions: 10 1/4″ from floor to bed
Location
Mail: Use student's PO Box.
Packages:
Receiver's name
305 Wisteria (Campus PO Box #)
Ruston, LA 71272
Perishable Deliveries:
Physical Address: 500 Adams Blvd., Ruston, LA