Louisiana Tech Career Closet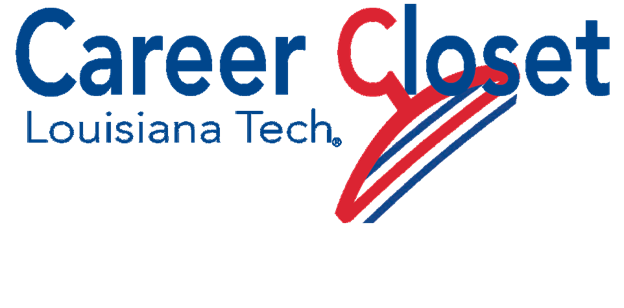 The Louisiana Tech Career Closet is a collaborative initiative between the Career Center and Fashion Merchandising and Retail Studies, a department of the School of Human Ecology in the College of Applied and Natural Sciences with the goal of providing current students who are preparing for their career with knowledge of appropriate professional dress and access to professional dress at no monetary charge.
Before taking clothes from the Career Closet, we encourage you to do these preparatory steps:
Activate Handshake Account

Each student enrolled at Louisiana Tech has a Handshake account preloaded with name, major, GPA, etc. You need to simply log on using your Moodle credentials to activate and complete your account.

Complete Resume Review

Resume Reviews are available Tuesday-Thursday from 2 to 5 PM throughout the quarter. Students should bring a printed copy of their resume/cover letter to be reviewed. If you are unable to attend Walk-in times please come to the Career Center to find out information for our inbox or drop off options.

Complete Mock Interview

Mock Interviews can be completed through the Big Interview Platform. Head to latech.biginterview.com Go to the "Assignments" tab and use the assignment code 58ea6c to complete your Career Closet Mock Interview. This is an abbreviated mock interview but students are encouraged to explore the platform in further detail.

Tell us about a career-related event that you are attending

Let us know if you have an interview coming up or are attempting an interview in the future.
Let us know if you've applied for any jobs.
Tell us about upcoming professional events i.e. conference, Etiquette Dinner or Career Day
Other instances where the professional dress is needed. Clothing should only be taken for professional/career related reasons.
*"Full" is a top and a bottom garment. Shoes, accessories, etc will be given while supplies last.
Further details on each of these tasks can be found in the glass case outside of the Career Center Keeny Hall 337.
The Career Closet is a collaborative initiative physically housed in the Career Center located at 337 Keeny Hall. You can schedule an appointment to use the Closet through Handshake or clicking the button below.
About
The Louisiana Tech Career Closet offers professional clothing to students that will allow them to enter or continue in the workforce. In need of a professional look – whether head-to-toe or just the finishing touch of an accessory – students are welcome to "shop" the Louisiana Tech Career Closet at no cost. Items you may find in the closet include: suits, pants, skirts, dresses, tops, ties, and belts.
Support
The Louisiana Tech Career Closet is supported with donations from Louisiana Tech alumni, employer partners, faculty, staff, parents, and community members and accepts donations of new and gently used professional clothing. The Louisiana Tech Career Closet also accepts in-kind donation monetary gifts to support the physical needs and upkeep of the Career Closet. Please contact the closet at CareerCloset@LATech.edu if you are interested in supporting the Louisiana Tech Career Closet. Donating directly through the University Foundation website is possible by selecting "I want to search for a designation" and searching "Career."