Career Center Events
The Louisiana Tech University Career Center sponsors the following events for students and alumni to explore employment opportunities with employer and organization representatives. To register for these events and for event details, log on to (or create) your Handshake user account. Follow the steps provided by Handshake Support outline here.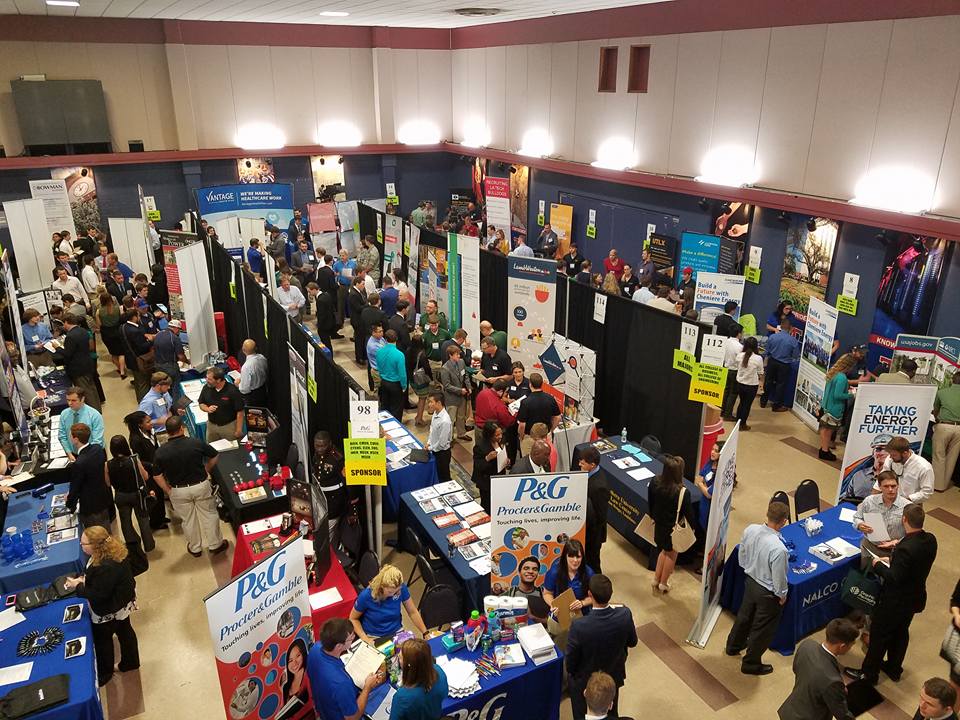 Virtual Recruiting Events
Southern Alliance Career Fair – June 16, 2020
The Career Center has partnered with other universities in the southern part of our country to provide a recruiting experience through the virtual fair platform CareerEco.
This event is free to attend by all students and alumni of Louisiana Tech.
Career Day
Fall Career Day
Session 1: Science, Technology, Engineering, Mathematics, and Aviation Fair 2020 – Thursday, September 24, 10:00 am – 3:00 pm (STEMA) – in the Student Center
Session 2: Communication, Art, Social Sciences, Business, Agriculture, and Health Fair 2020 – Friday, September 25, 10:00 am – 3:00 pm (CASBAH!) – in the Student Center
Last fall was our first two-day event, and we will continue this model for Fall 2020. Career Day is the largest on-campus recruiting event to offer networking opportunities for employers, alumni, and students, and we hope you can be a part of it.
As many employers have observed, our attendance has increased while our space has not. In an effort to resolve this issue, we have taken your feedback into consideration and restructured Fall Career Day. Career Day participation is still a direct way to connect employers with Louisiana Tech talent and provide them with information about full time, part time, and internship availability. Our campus is going through many repairs, renovations, reorganizations, and new construction, so the Louisiana Tech Fall Career Day will again be a two-day event to accommodate. Handshake will be used for registration and event management. Make sure your account is up to date.
Spring Career Day
Thursday, February 11, 2020 | 10:00 am – 3:00 pm in the Student Center
Hosted by the Louisiana Tech University Career Center. Students and alumni of all majors are invited to take place in this open browsing event. Students and Alumni have the opportunity to register online before the date of the fair. Employers from various local, national and international companies travel to Louisiana Tech to recruit interns and employees from these events. This is a one day event for all majors. As with all of our large events, registration will be through Handshake.
Graduate and Professional School Fair
Thursday, October 31, 2019 | 10:00 am – 2:00 pm
Graduate and Professional School Fair gives Louisiana Tech University students and alumni the opportunity to meet with representatives from various organizations about furthering their education. Graduate and Professional School Fair is open to all students and alumni of all majors and classifications.
Teacher Recruitment Day
Canceled – Thursday, April 2, 2020 | 9:00 a.m. – 12:00 p.m. in the Davison Athletics Complex
During each spring quarter, the Louisiana Tech Career Center hosts Teacher Recruitment Day for students and alumni in search of teaching, counseling/guidance and speech pathology positions. Many school districts and educational companies participate in this fair. Students and alumni with majors in Education, Counseling, Kinesiology, Psychology and Speech Pathology are invited to attend this fair and can preregister for the event. School Districts and Employers are required to register before participation.
Registration: Students | Employers
Health Sciences Career Event
Canceled – Thursday, April 2, 2020 | 2:00 p.m. to 5:00p.m. in the Student Center
The Louisiana Tech Health Sciences Career Event gives students and alumni the opportunities to meet with representatives from professional health fields. Students and Alumni of all majors are welcomed to participate.
Registration: Students | Employers
For questions about any event hosted by the Career Center, please contact Avery Broussard at 318.257.4336 or avery@latech.edu